Health Advocacy Training (CHAT)
What is Community & Health Advocacy Training (CHAT)?
CHAT provides health literacy training to adults with disabilities. CHAT has two parts, the first is training for adults with disabilities, the second is a guide for supporters and families. To learn more please see the information below.
Participants will learn about:
How to better communicate health concerns with doctors, healthcare providers, and supporters

How to speak up and ask specific questions about their health

How to prepare for medical visits and identify health priorities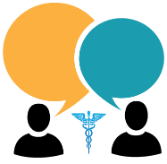 CHAT IS ABOUT

CHAT IS NOT ABOUT

Healthy communication

Personal health priorities

Speaking up

Preparing for medical appointments

When & how to get help

Health education
Healthy habits
Exercise planning
Diet planning
HOW THE TRAINING WORKS
SPEAKING UP ABOUT HEALTH:

In this session (90 minutes), participants are introduced to major concepts of health communication and complete a take-away 'Health Passport'.


COMMUNICATION HEALTH & ADVOCACY:

These three sessions (60-90 minutes each) are designed to provide a comprehensive understanding of concepts, interactive practice activities, and multiple opportunities for audience participation.
LOGISTICS

CO-TRAINERS
WHERE

Training sessions are presented by a trainer with a disability and a support trainer.

Co-trainers will travel within a two-hour radius of Richmond, Virginia to provide the training.

AUDIENCE
TRAINING SITES

Groups of 8-13 adults with intellectual and developmental disabilities

.

Provide a space with tables and chairs for training participants and co-trainers.
HOW TO SCHEDULE A TRAINING
To schedule a training or to learn more about CHAT please contact brandtj@vcu.edu
CHAT Partner Guide - Communication and Health Advocacy Training Partner Guide for Direct Support Providers and Family Members
This partner guide is intended to supplement "face-to-face" training provided to people with disabilities so that their direct support providers and family members can be informed of how to support people with disabilities in the use of the tools that are found in the CHAT training.